SPORT PICKS


Thank you to OC16 for 31 years of telecasting OIA Football, Volleyball, Basketball, Soccer, Baseball, and Softball and MORE!
Check out the schedule on OC16's website: www.OC16.tv


Purchase OIA Event tickets at GOFAN.CO/OIA
Waipahu Captures White West Regular Season
OIA Softball Update
(Thu) April 14, 2011

Edward Jackson (OIA Contributing Writer)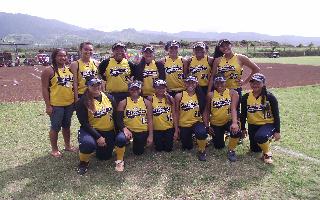 2011 Waipahu Marauder Softball Team
,
Photo by E. Jackson
Waipahu catcher Angie Sakamoto batted 4-for-5 with a home run to back the pitching of A. J. Miranda and enabled the Lady Marauders to win the Oahu Interscholastic Association White West Division regular season girls softball title on Tuesday, April 12th with a 9-4 victory over host Waialua.
Waipahu jumped out to a 3-0 lead in the opening inning then added six runs in the fifth to secure the victory. The win improved Waipahu's record to 10-1 while the Bulldogs' record fell to 8-3.
H. Aquino went 3-for-5, Tami Viliamu tagged two hits including a home run while Tali Viliamu added a home run to give Waipahu a first-round bye in next week's OIA girls softball tournaments. The tourney starts on April 21st with three teams from each division battling to earn a berth in the state championships. The grand prize of the OIA tourney is White Division championship crown.
Waialua's Pua Naki, Karina Bayudan and Charee Wong each had two hits. Two of Waialua's three losses came at the hands of Waipahu.
In other OIA White Division softball games on April 12th, Anuenue pounded out 19 hits to earn a 21-20 victory over Farrington in OIA White East action at Lanakila Park. Lahela Nao led Anuenue with three hits including a triple and two RBIs. Isa Benavente led Farrington's offense, going 5-for-6 with a double, triple and two RBIs.
Nanakuli won 17-7 over Radford with Chelsie Koko earning the pitching victory on the Rams' home field. Koko contributed to her win with two hits. Raia Salanoa led Radford, going 3-for-4 with two RBIs.

Copyright © 2007 The Oahu Interscholastic Association.
A Community Services Website Built and Hosted by
DataHouse
.