SPORT PICKS


Thank you to OC16 for 35 years of telecasting OIA Football, Volleyball, Basketball, Soccer, Baseball, and Softball and MORE!
Check out the schedule on OC16's website: www.OC16.tv

Basketball Officials Love This Game
Basketball Officials Love This Game
by Thomas Yoshida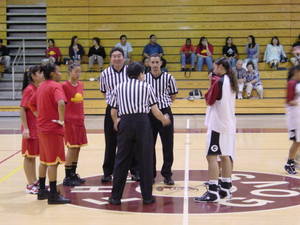 Officials speak to Roosevelt and Farrington
before their April 6, 2005 game. Photo by E. Tumaneng
If Kermit the Frog thought it was tough to be green, he never wore a black and white stripped shirt and officiated a basketball game. For the more than 65 men and women of the Hawaii State Basketball Officials Association, this is the part-time labor of love.
From their first meeting in October to the final horn of the OIA girls championship in May, members are not only officiating games, they are students of the game learning all aspects about basketball as well as themselves.
"I always learn something new and different," said Alton Mamiya, a nine year basketball official who lives in Kaimuki. "There's always something happening that you've never seen before and that keeps me on my toes."
Mamiya is one of the fortunate ones. He holds the record for being the youngest official to work a state championship game. On May 21, 2001, Mamiya, who was 24 at the time, worked the prestigious game with fellow officials Todd Apo and Tom Yoshida. Aiea defeated Kalaheo 52-45 to win their first girls state championship.
"I'm extremely proud of Alton's accomplishments," said Yoshida who is the president of HSBOA. "For him, it took only five years to get there. For others, some are still striving towards that goal. Most of us love to be on the floor because high school basketball is about the kids and the experience. We appreciate the fact that the OIA supports the players, coaches and officials."
While Mamiya reached the top of his profession, two other officials are working their way toward their goals.
Randy Ginoza is your typical student-athlete. A graduate from Baldwin High School, Ginoza lettered in football, basketball and baseball and while his basketball playing days are a distant memory, he wanted to remain active as an official.
"I really love the game," Ginoza said. "Whether it's playing with my friends or being on the court, I constantly want to get better at it."
Due to work commitments, Ginoza moved from Maui to Honolulu two years ago and joined HSBOA. With seven years of experience, he currently officiates a combination of junior varsity and varsity contests. His goal in officiating is to get as far as he can and by going to "officiating camps" on the Mainland, he believes he can move up the ladder.
"I love going to camps," Ginoza noted. "The level of play is real high and you get better because you are working with so many other officials who are motivated like you."
Anthony Collazo is on a similar road with Ginoza. Collazo played basketball with the Kalakaua Monarchs since he was 5-years old. At the time he never thought he'd be an official until after high school when he started watching the officials.
"I was watching a game in which Sam Delos Reyes was officiating and I wanted to be an official," Collazo recalled. "I was already officiating PAL (Police Athletic League) games at the time but my friend, who was with HSBOA, told me about joining up and I thought I'd give it a try."
Collazo joined HSBOA in 1999 and learned more than just officiating. As a former player and coach, he now appreciates the role of the official in basketball.
"As an official, you now see both sides of the coin," he said. "I can now see what players and coaches are trying to do but as an official, you have to enforce the rules."
Now in his sixth season in the OIA, Collazo is even more focused on being more than just a high school official.
"I started off with small goals," he said. "Once I accomplished that, I wanted to do a JV (junior varsity) championship game. Then I worked on making the varsity and state playoffs. I now want to be a college official but I know that time will come.
He has some advice for people interested in officiating.
"Be patient and learn the game," Collazo said. "Know how to take constructive criticism and listen. When I was playing basketball, I learned discipline and teamwork and I got better. In many ways, officiating is much the same. You get better by knowing that you are a part of a team and by working together, you'll soon have a greater appreciation for yourself and the game."
Join HSBOA: The Hawaii State Basketball Officials Association was founded in 1989 and serves the Oahu Interscholastic Association. In addition to OIA games, the association does elementary, intermediate, high school, junior college and NCAA Division I and II games. To learn more about HSBOA, please call OIA Basketball Commissioner Louis Fuentes at 222-2772.
About the author: Thomas Yoshida is the President of the Hawaii State Basketball Officials Association. He started officiating in 1983 and is presently on the staff of officials

Copyright © 2007 The Oahu Interscholastic Association.
A Community Services Website Built and Hosted by
DataHouse
.