Cougars Led by Sophomore Nikki Taylor
Kaiser Girls Volleyball
(Tue) October 19, 2010

Cleston Texeira, Sports Editor, Cougar Connection (Kaiser High School)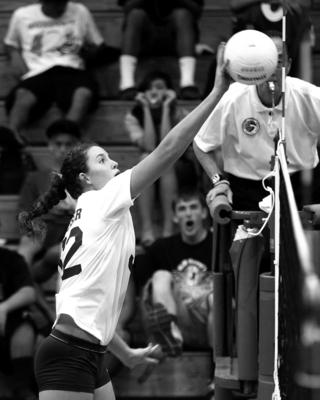 Photo by Byron Ng, Kaiser High School

The No. 2, Lady Cougars Volleyball team had truly penetrated through the red division this season (10-2), with only one obstacle in their path: the Moanalua Menehunes. Kaiser has lost to Moanalua at both meetings, in three sets. "I've seen Moanalua play. They're really a tough team to beat," said Kaiser blue volleyball player, Sara Speer. On Aug. 28, Kaiser hosted the Menehunes. Kaiser sophomore middle blocker, and outside hitter, Nikki Taylor led the team in attacks and kills, with 26 attacks, and 8 kills. Junior setter, and opposite hitter, Jolie Au lead this game in assists with 18 on the night. During the season thus far, Taylor has managed 196 attacks, and 78 kills in 24 total sets played.
At Kaiser and Moanalua's second meeting, the Cougars started off strong and confident, winning the first set 25-19. However, this No. 2 volleyball team just couldn't pull through a win, losing both the second and third set by just a couple of points. Junior middle blocker and outside hitter Haley Durham controlled the Cougar's offensive game with a total of 24 attacks and 9 kills.
As for Taylor, by the way it looks now, her volleyball career has set her a long path to follow. Just a sophomore in high school, Taylor already has college scouts looking at her from Texas, Penn State, the University of Southern California, the University of California at Los Angeles, and the University of Hawaii. There are a total of 7,500 full ride scholarships available for women's volleyball players attending colleges in America. This means that Taylor's theoretical chances of having one of these colleges recruit her may be less than one percent. However, she has a good chance of receiving a scholarship at this point. Taylor's older brother, Josh Taylor, a senior at Punahou, has been recruited to play men's volleyball at USC.
The Cougars have two more games in their regular season. The next is on the road against the Kahuku Red-Raiders, and final game is at home against the McKinley Tigers. The game against McKinley will take place on Sept. 30.


Copyright © 2007 The Oahu Interscholastic Association.
A Community Services Website Built and Hosted by
DataHouse
.