<strong>BOYS BASKETBALL</strong> ARTICLES
Radford Boys Take to Courts for Conditioning
(Mon) October 29, 2007

Alyssa Marie Galarce (Radford High School)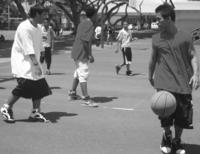 Carlos Rodriguez (12) and Joash Pangilinan (11) take in a game of basketball during lunch. Photo by Alyssa Galarce
A new season is approaching for the Radford High School boys varsity basketball team, with their new Head Coach Wayne Anthony Keys, along with Assistant Coaches Jacob Avila, Richard Pagan, and Nelson Lau.

Before the actual games and practices begin the boys need to get through conditioning and tryouts. Although the tryouts do not start until Nov. 12, many of the boys are preparing early to play and make the team.
"Conditioning is a big part of basketball. We also emphasize the fundamentals of basketball," said Coach Lau. The coaches are offering conditioning to potential players from Sept. 24 to the tryout date. Practices are held everyday except Sundays, and the time varies from day to day.

Fifteen players will be needed on the team. However, there are seven likely returnees from last year's team.

They include Joash Pangilinan (11), Aldrin Valdez (11), Jon Combis (12), Jared Brown (12), Andre Brown (12), Mario Del Los Santos (11), and Stevie Williams (12).
There are certain expectations that the boys must meet.

"The expectation for being on the team is to play hard, do your best, and know the fundamentals to playing basketball," said Joash Pangilinan (11).

As student athletes, players need to also keep up with their school work.

Players are required to maintain a 2.8 grade point average or higher to play in the games.
With last year's record from the regular season to post-season 11-7, the team is working to make it to the playoffs.

"I feel this season will be very challenging but at the same time very exciting.

We expect to be competitive in our division and ultimately win the OIA championship," said Coach Lau.
"I practice everyday after school, before tryouts start. I hope our team makes it to State Champion," said Valdez.
According to Coach Lau, the coaches have been preparing by having coach meetings once a week beginning in September. The team's motto this year is: One team, One Way, One Goal.
RHS is expected to play Leilehua, Pearl City, Kapolei, Mililani, Waianae and Campbell this season. The team will play 13 preseason games and 12 regular season games. In addition, players will pay in several tournaments that include the Jim Alegre Tournament, Punahou Tournament, and Moanalua Tournament.

Copyright © 2007 The Oahu Interscholastic Association.
A Community Services Website Built and Hosted by
DataHouse
.